This email address is being protected from spambots. You need JavaScript enabled to view it.
Officers of Tent 24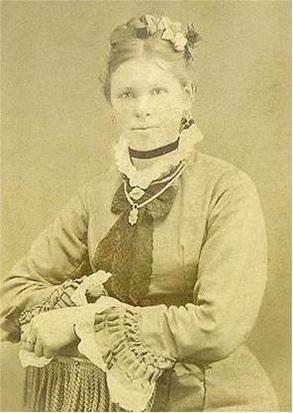 Louisa Volker Macklind is the newest tent in Missouri in the Kansas City area, established August 31, 2013, in Jackson County, Missouri . We meet every month at the Historic Woods Chapel on Woods Chapel Road at 10:30 a.m. every third Thursday. Our current President is This email address is being protected from spambots. You need JavaScript enabled to view it. and our Registrar is This email address is being protected from spambots. You need JavaScript enabled to view it.. Our chapter is active in honoring our veterans, both past and present, preserving history and serving our community in a myriad of ways.

Tent #24 was named for Louisa E. Volker born in St. Louis, Missouri, in 1838.

Mineral Point was an important junction for the St. Louis and Iron Mountain Railroad, which had been built south from St. Louis to Pilot Knob, Missouri. Around the beginning of 1863, Miss Volker became a member of the U.S. Military Telegraph Corps. About seven months previous, Miss Volker had relieved C. T. Barrett. Operator at Mineral Point, and became at once the first lady operator in the Corps, west of the Mississippi.

On a former occasion, the station six miles north of the Point was attacked by cavalry, surprising Captain Lippencott's Company, which being driven off, collected at Mineral Point. Miss Volker had previously ascertained the presence of the enemy, telegraphed to Pilot Knob the situation, and started the repairer north to mend the line. She sat by the instrument all night in expectation of an attack on Mineral Point.

Later, September 19, 1864, Confederate Major General Sterling Price crossed over from Arkansas into Missouri at the head of a force of 12,000-15,000 men. This would later be known as Price's Raid. Union forces under the command of Major General A. J. Smith were encamped in the area of Mineral Point. Smith's command was concentrated to meet a portion of Price's troops expected there, and called in his out-posts, awaiting attack. A train laden with soldiers and refugees, including the Irondale operator was delayed in the consequence of injury done. The attack on the train which followed was repulsed, the track repaired, and the train saved. By this time the woods were filled with Confederates, and picket firing began. Miss Volker, operating at the Point having been at her instrument continuously for two days and nights, was relieved by the Irondale operator.

Louisa married Captain Thomas Hanlon Macklind in St. Louis. Louisa Macklind evidently gave up telegraphy after her marriage; however, she took an interest in a field that was just beginning to be open to women in the 1870s-stenography. She not only learned stenography, but also gave free instruction to poor girls of the city. Then in 1895, age 58, she graduated from Women's Medical College in St. Louis, and was granted license #6720 for regular practice medicine. She never practiced extensively and most of her practice was devoted to charity cases. Louisa Macklind died on May 21, 1905. Her obituary in the May 22nd St. Louis Dispatch under the heading, "First Woman War Telegrapher Dead." She was buried in Bellefontaine Cemetery.
(Image of Louisa Volker Macklind courtesy of the family: William Nager & Tiffany Parker)